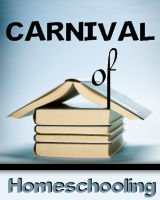 I am hosting the Carnival of Homeschooling next week and I want to send out an invite to anyone presently home educating or to anyone who has done so in the past.
I hope you will take the time to share a post for the Carnival and invite others to join us as well.
The theme for the carnival comes from a quote from Gene – Stratton Porter –
"Is he well educated?"
"Yes, I think so, as far as he's gone," I answered. "Of course he will go on being educated every day of his life, same as father. He says it is all rot about 'finishing' your education. You never do. You learn more important things each day…"
Here are the details for participating :
Submissions are due to: CarnivalOfHomeschooling@gmail.com by 6:00 PM (PST) on the Monday Evening. It will be greatly appreciated if the submissions come in earlier. Please send the following information:
Title of Post
URL of Post
Name of Blog
URL of Blog
Brief summary of the post
(With "carnival" or "submission" in the subject field of the email.