I have often mentioned that we followed an interest based learning over the years.  Whether we were immersing ourselves in trains, art, baseball
or just reading a book for fun, the method served us well. Having plenty of time, resources and encouragement enables anyone to make the subject they are interested in  their own.   There is no one right way, but every individual finds the methods that work best for them.
My grown son still has the photo in his office that a major railroad sent him when he wrote them asking what the very fancy train was that
occasionally sped by our house.  They wrote back that it was the old "President's Train" that was now used for executives to travel the country, and set a lovely 8 x 10 along with it.  They had so many of those experiences with the librarian, a zookeeper, naturalist and others in the community they learned to seek out information and solutions from others when they needed to. I've seen them use those same skills very well as adults.
Enjoy this carnival as others share their methods, lives and learning experiences in this week's carnival.
DenSchool presents President's Day CLIP (Creative Learning in a Pinch) DenSchool offers this free resource that offers, facts, activities, crafts, snack ideas, math and vocabulary printables to help celebrate President's Day and honor George Washington and Abraham Lincoln.
Thanks again to all of you who shared your posts and to those who stopped by to read them!
Be sure to submit next week's post to Judy Aaron  for the  26 February 2013 edition at  – Consent Of The Governed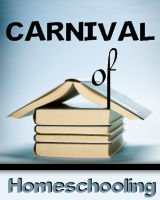 Did you know that February is Responsible Pet Owners Month? Their official site explains that you can think of it as a month-long "Mothers Day" or "Fathers Day" for animals.
Caring for a pet, whether it is a cat, dog, horse, frog or fish not only brings a lot of joy, but also many life lessons.

Here are some sites that offer resources on how to care for pets:
It's been a while since I've posted here at The Informed Parent. We aren't 'officially' homeschooling these day, but we do still learn at home on a daily basis.
I hope you will join those of us hosting this month.   Here's the schedule for this month:
Currently we have the future carnivals planned:
5 February 2013 – Dave Out Loud
12 February 2013 – HomeschoolBuzz.com
19 February 2013 – The Informed Parent
26 February 2013 – Consent Of The Governed
I hope you will join each of us!
February is library lovers month. Our local library has been in the same lovely old home for many years.
Later this month, they will be moving into a brand new beautiful facility.
I love my library every month, but in honor of the Library Lover's Month, here are some library resources to enjoy: