Chromoscope lets you explore the universe range of wavelengths from X-rays to the longest radio waves.
Myoats is a community where people create designs using an online drawing application. These designs can be rated, downloaded, and archived. The Most Liked designs are rewarded by being featured on the home page.
Welcome to the Carnival of Homeschooling!
"I wonder what it would be like to live in a world where it was always June." -L. M. Montgomery
LessonPathways (Christina S.) presents Kind of Like Nim's Island …. posted at Lesson Pathways Blog.
Kelli presents Homeschooling Quick and Cheap Craft Ideas | 3 Boys And A Dog posted at 3 Boys And A Dog.
Lisa presents Language Arts Curriculum Review posted at The Joy of Learning.
Carol J. Alexander presents Exhibit Fair–My Turtle Cappy posted at Everything Home…with
Carol.
June Tree presents Beyond Homeschooling Your Kids: Radical Unschooling? posted at The Digerati Life.
ChristineMM presents Expensive Sports Gear Doesn't Equal Skill posted at The Thinking Mother.
Naomi presents Awakening posted at Living Charlotte Mason in California.
Elizabeth presents reading at  Ordinary Tim.
Cristina presents Home Spun comic strip #493 posted at Home Spun Juggling.
Mrs. White presents Teaching Home Economics To Daughters posted at The
Legacy of Home.
Heather Laurie presents Homeschooling is not school at home! posted at Special Needs Homeschooling.
DeputyHeadmistress presents Home-School Tools posted at The Common Room.
Barbara Frank Online presents Seems Obvious, Right? There's evidence that students do better with less school, so what can we conclude?
Janine at  Why Homeschoolwrites about the end of the school year in Crash and Burn
Linda Dobson presents The 15th Anniversary Edition of The Art of Education for Bloggers and Publishers for Review posted at PARENT AT THE HELM.
Elena LaVictoire presents The teenage years posted at My Domestic Church.
Amy @ Hope Is the Word presents Read Aloud Thursday?Bible Story Edition posted at Hope Is the Word.
Beverly Hernandez at Beverly's Homeschooling Blog presents Free (or
Cheap)Summer Movies for Kids. Visit for a listing of theaters offering summer specials for kids.
Thanks to everyone for joining in this week's Carnival of Homeschooling!

Free Range Learning: How Home Schooling Changes Everything by Laura Weldon offers the catalyst for an alternative education revolution whether you're  just beginning to investigate homeschooling, or you are a more experienced veteran.
Laura shares data that helps any parent or educator wanting to understand how vital natural learning is to each and every child. She also offers valuable insight and tips on everything starting with where to  begin to  how to create enriching networks in your own community.
Finally, there are accounts of  homeschool families from around the world that provide a real life insight that gave me the feeling of having attended a homeschool support gathering.
Once I started reading it, I couldn't put it down.  I enjoyed the data, family stories and practical advise that it offers to families with children from pre-school on up.  It is really a one stop read that  will help to empower generations to come.
You can purchase the book by clicking on the cover above or by clicking here.
Many colleges offer some  great online resources if you explore their website.  Wake Forest University in N.C. is one of them.  Visit here to explore  some excellent  physics videos .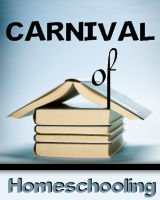 The Carnival of homeschooling will be hosted here next week.  I hope you will join us!
Meet the sloths from Amphibian Avenger on Vimeo.
Explore the Sistine Chapel up close by clicking here.