I have often mentioned that we followed an interest based learning over the years.  Whether we were immersing ourselves in trains, art, baseball
or just reading a book for fun, the method served us well. Having plenty of time, resources and encouragement enables anyone to make the subject they are interested in  their own.   There is no one right way, but every individual finds the methods that work best for them.
My grown son still has the photo in his office that a major railroad sent him when he wrote them asking what the very fancy train was that
occasionally sped by our house.  They wrote back that it was the old "President's Train" that was now used for executives to travel the country, and set a lovely 8 x 10 along with it.  They had so many of those experiences with the librarian, a zookeeper, naturalist and others in the community they learned to seek out information and solutions from others when they needed to. I've seen them use those same skills very well as adults.
Enjoy this carnival as others share their methods, lives and learning experiences in this week's carnival.
DenSchool presents President's Day CLIP (Creative Learning in a Pinch) DenSchool offers this free resource that offers, facts, activities, crafts, snack ideas, math and vocabulary printables to help celebrate President's Day and honor George Washington and Abraham Lincoln.
Thanks again to all of you who shared your posts and to those who stopped by to read them!
Be sure to submit next week's post to Judy Aaron  for the  26 February 2013 edition at  – Consent Of The Governed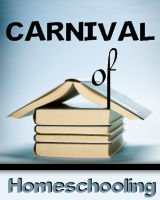 It's been a while since I've posted here at The Informed Parent. We aren't 'officially' homeschooling these day, but we do still learn at home on a daily basis.
I hope you will join those of us hosting this month.   Here's the schedule for this month:
Currently we have the future carnivals planned:
5 February 2013 – Dave Out Loud
12 February 2013 – HomeschoolBuzz.com
19 February 2013 – The Informed Parent
26 February 2013 – Consent Of The Governed
I hope you will join each of us!
Welcome to this week's edition of the Carnival of Homeschooling.  Last week's invite included a John Taylor Gatto quote.  I saw Mr. Gatto speak when we first started homeschooling years ago at Finney Chapel in Oberlin, Ohio .  His speech went straight into my heart and has stayed with me and inspired me through the years.
Whether you are just starting down the path of home eduction, in the middle or about to see your children leave the nest,  thanks for stopping by.  I hope you will visit all the blogs participating in this week's carnival, find different ways to trust your instincts, follow your heart and enjoy the path your family follows that best meets each of your needs.
Here are this week's carnival treasures for you to explore:
Tiger's Mum presents The Tiger Chronicle: Mondrian Again posted at The Tiger Chronicle.
à la mode de les Muses presents Novel Homeschoolers: Rebecca Vaughn Is on Amazon.com  at à la mode de les Muses
Homeschool graduate Jennifer Vaughn introduces "The Politics of Benadel" and "The Finding of Cinuit," two short stories about ancient Britain authored by her younger sister, homeschool graduate Rebecca Vaughn.
Den Schoolpresents Being a Homeschooling Mommy Blogger – Part 1  at Den SchoolGet a glimpse into the life of a homeschooling mommy blogger and find out some of the pros and cons.
Laura Weldon presents: Successful Teen Homeschooling: Two Vital Factors at LauraGraceWeldon.com
Susan Ryan presents – Family's Great Adventures – The Places They've Been, The People They'll See at Corn and Oil. 
Katherine Collins presents A Little Botanical Time Travel at No fighting, no biting!
She shares that:  Seeing a rare wildflower reminds me of one of the best and few true educational experiences I had in
my many years of being a student.
Beverly Hernandez presents Farewell About.com, Hello Homeschool Journeys.com  at   About.com Homeschooling
She writes that, After 13 years, Beverly Hernandez is leaving About.com and starting her own website at homeschooljourneys.com. Come check it out, sign up for my newsletter and follow me on Facebook.
Elena LaVictoire presents 20 Reasons to Keep Homeschooling Through the Summer posted at My Domestic Church.
Dewey's Treehouse
presents 
A grammar quiz for smart homeschoolers
   at 
Dewey's Treehouse
.  They shared,  
The lack of editing in a magazine article inspired us to create a grammar quiz. Can you spot the problems?
Victoria presents The Learning Journey: Fun or not fun??!! posted at The Learning Journey.
Linda Dobson presents  They Call It a Grassroots Education Revolution; That's Funny     at Parent at the Helm
Golden Grasses presents Summer List of Fun Stuff  at Golden Grasses  Click on over to read about their plan for summer that includes Challenges, activities, food and projects.
Annie Kate Aarnoutse presents  Inspiration for Mothers at Tea Time with Annie Kate  She writes:  We homeschool moms are moms first of all, and sometimes a fresh perspective on mothering can be helpful
Jamie Gaddy presents  Is Your Cake Baking? How to combat your doubts and fears…  at Homeschool Online  She writes: Everyone worries that they just aren't cutting it when it comes to homeschooling… just remember you aren't alone!!
Thanks to everyone for participating in and stopping by the carnival.
I will be hosting the Carnival of Homeschooling next week on May 29th and I'm grateful to the Cate's for their continued invitations to host the carnival here.
I'm particularly appreciative since  I've been woefully neglectful of this blog as of late, but the main reason I originally created it was not for my posts,  but to share information  such as  Sue Duncan's  OH-Alerts.   The opportunity of hosting the carnival a couple of times of year is another reason I happily keep it online.
Hosting the carnival always leads me back to the wonderful path home education led our family down over the years.  This quote by John Taylor Gatto  says it all:
"Whatever an education is, it should make you a unique individual, not a conformist; it should furnish you with an original spirit with which to tackle the big challenges; it should allow you to find values which will be your road map through life; it should make you spiritually rich, a person who loves whatever you are doing, wherever you are, whomever you are with; it should teach you what is important, how to live and how to die."– John Taylor Gatto
I hope you will stop by next week to visit or submit a post!