I've just finished reading the last Carnival of Homeschooling for 2011 over at Susan Ryan's Corn and Oil. These days my boys are gone from the homeschooling nest as well, but they often reflect that  the opportunity to learn at their own pace and explore their interests has stayed with them as they venture on in life.
I was pleasantly surprised to  see my good friend Kaye Swain participating over at Susan's edition of the COH.  I know Kaye as a monthly contributor to the EldercareABC, Inc. blog. It's delightful to know how small and connected our world truly is.  Kaye has been a great source of care giving encouragement to me over the past year, which is a good segue to explain where I've disappeared to since my last post in May 2011.
On July 2nd, 2010, my Dad coded after an emergency endoscopy to unblock a blocked liver duct.  After his resuscitation, we all began a journey my dad would not have chosen, but that led him and our family  to meet some very wonderful people. Due to his limited mobility after the resuscitation, Dad moved to the Renaissance Health Center where one of us visited him daily until he passed away peacefully and with dignity on July 8th, 2011.
Dad often told others about the wonderful opportunities that homeschooling offered our family.  He was even buried in a biodegradable urn made by our good homeschool friends Debra and Stephen  Bures at Elements Gallery. We had a memorial celebration at the Renaissance where we were delighted to celebrate his life with friends, family,  many of his fellow residents and the awesome staff who cared for him.   Even the  local newspaper editor, Mary Jane Skala,  whom my Dad sparred with regularly over  their political differences over the  years came to the service.
Shortly after he passed, my Mom took a tumble on a loose rug at the local bank. After a long series of emergency room visits and hospital admissions, she ended up at the Renaissance as well, so we are once again making our daily visits there.  The staff and residents continue to be great and will forever remain a part of our family.  (One thing we found enriched our lives when we were homeschooling was volunteering. If you are a homeschooling family or group in the Cleveland area, you couldn't ask for a nicer place to volunteer.  If you are interested, just contact me!)
As the year comes to an end,  I remain appreciative of  the many kindnesses that have been shared with our family.    Thanks to each of you from the bottom of my heart.
If homeschooling has taught me anything over the years, it is to be an advocate, stand up for my rights, stand up for others and to embrace the responsibilities life presents me.  To have so many of you in my life who do the same brings great joy to my life.  Thank you and Happy, Healthy 2012 to each of you!
Thank you for stopping by while I host the Carnival of Homeschooling!   I appreciate  everyone who contributed, those stopping by for a look and to Henry and Janine Cate who continue to keep this great free resource going.  Enjoy!
Paul Munger presents Podcast! Heartbeat of a Homeschool Family: The Mungers posted at The Homeschool Show.
Kyle Sadler presents To Be or Knot to Be — Our Next Fine Motor Lesson posted at Montessori For Learning.
Richele McFarlin presents Adding in Charlotte Mason Basics posted at Under the Golden Apple Tree.
Lois Ridley presents PRESCHOOL SONGS posted at Parenting Twins and More.
Cristina presents Tips for Running a Successful Homeschooling Program posted at Home Spun Juggling.
Jimmie presents Postcard Notebooking Page posted at The Notebooking Fairy.
Barbara Frank Online presents  Do Kids Learn More By Writing Instead of Typing?
Welcome to the Carnival of Homeschooling!
"I wonder what it would be like to live in a world where it was always June." -L. M. Montgomery
LessonPathways (Christina S.) presents Kind of Like Nim's Island …. posted at Lesson Pathways Blog.
Kelli presents Homeschooling Quick and Cheap Craft Ideas | 3 Boys And A Dog posted at 3 Boys And A Dog.
Lisa presents Language Arts Curriculum Review posted at The Joy of Learning.
Carol J. Alexander presents Exhibit Fair–My Turtle Cappy posted at Everything Home…with
Carol.
June Tree presents Beyond Homeschooling Your Kids: Radical Unschooling? posted at The Digerati Life.
ChristineMM presents Expensive Sports Gear Doesn't Equal Skill posted at The Thinking Mother.
Naomi presents Awakening posted at Living Charlotte Mason in California.
Elizabeth presents reading at  Ordinary Tim.
Cristina presents Home Spun comic strip #493 posted at Home Spun Juggling.
Mrs. White presents Teaching Home Economics To Daughters posted at The
Legacy of Home.
Heather Laurie presents Homeschooling is not school at home! posted at Special Needs Homeschooling.
DeputyHeadmistress presents Home-School Tools posted at The Common Room.
Barbara Frank Online presents Seems Obvious, Right? There's evidence that students do better with less school, so what can we conclude?
Janine at  Why Homeschoolwrites about the end of the school year in Crash and Burn
Linda Dobson presents The 15th Anniversary Edition of The Art of Education for Bloggers and Publishers for Review posted at PARENT AT THE HELM.
Elena LaVictoire presents The teenage years posted at My Domestic Church.
Amy @ Hope Is the Word presents Read Aloud Thursday?Bible Story Edition posted at Hope Is the Word.
Beverly Hernandez at Beverly's Homeschooling Blog presents Free (or
Cheap)Summer Movies for Kids. Visit for a listing of theaters offering summer specials for kids.
Thanks to everyone for joining in this week's Carnival of Homeschooling!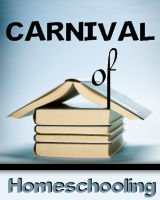 The Carnival of homeschooling will be hosted here next week.  I hope you will join us!
The Carnival of Homeschooling is hosted this week at Susan Ryan's Corn and Oil blog.
"What children need is not new and better curricula but access to more and more of the real world; plenty of time and space to think over their experiences, and to use fantasy and play to make meaning out of them; and advice, road maps, guidebooks, to make it easier for them to get where they want to go (not where we think they ought to go), and to find out what they want to find out."  ~John Holt~ Teach Your Own
Homeschooling offers children the time and space they need to learn, grow and thrive. As we turned the clocks back this week-end, I thought of all the many hours we have  enjoyed with our children over the years thanks to homeschooling. Below are a variety of  posts that offer ideas and ways others are enjoying  that precious  family time.
Pamela Jorrick presents Not Everyone Can Write Right posted at Blah, Blah, Blog.
Jimmie presents Occupational Outlook Handbook (OOH) posted at The Curriculum Choice.
Jimmie presents Picture Books for Middle School posted at Jimmie's Collage.
Getting Ready for a New Baby sent along tips for getting ready to bring a new baby home  at their   Successful Homeschooling blog.
Angela presents Sacred Friendships Book Review posted at He Speaks To Me.
Adam Pedley presents 11 Great Benefits When Homeschooling posted at Natural Parenting Tips.
Cindy presents Presidents of the United States Unit posted at Our Journey Westward.
Karen presents Peanut Butter posted at The Stone Age Techie.
Matthew Paulson presents Parents Can Seek Refund for Baby Einstein Videos posted at American Consumer News.
Kurtshan presents Cracking Geodes posted at Song of My Heart
Mrs. C at Homeschool & Etc. presents Star Trek Homeschooling "Read along and decide which character suits you! We Star Trek Homeschoolers can't be a monolithic sort of group, you know. That's why it's called the Federation of Star Trek Homeschoolers when we get together for conventions each year."
Lara DeHaven presents Incorporating the Gouin Series in Spanish posted at Texas Homesteader.
Barbara Frank Online Presents Inspiring Story for Teens. She shares:A young newlywed couple with no debt and $50,000 in savings is a great inspiration for teens who hope to become financially free adults.
Kim Kautzer at In Our Write Minds  presents Stumbling block #1 – Lack of Confidence She shares that, "In the first of a 10-part series on stumbling blocks to writing, Kim takes a look at practical ways to help your reluctant writer gain more
confidence."
Laura Grace Weldon presents Open-Eyed Optimism posted at Laura Grace Weldon
Susan Ryan presents Why shouldn't we prove our worthiness? posted at Corn and Oil.
Heather @ Marine Corps Nomads presents Giving Thanks Turkey Craft posted at Marine Corps Nomads.
Cristina presents The (Edible) Globe Theater posted at Home Spun Juggling.
Amber Morris presents Clutter and Chaos posted at The Mommy Earth.
Jennifer Bogart presents Save the What? posted at Quiverfull Family.
Elena LaVictoire presents My Domestic Church: Ebooks and homeschooling posted at My Domestic Church.
ChristineMM presents Thoughts After Helping My Niece With Her Homework posted at The Thinking Mother.
Thanks to everyone for submitting their great posts and to all those who stopped by to read them!
That concludes this edition. Submit your blog article to the next edition of carnival of homeschooling using our carnival submission form. Past posts and future hosts can be found on our blog carnival index page
Click on the clock to submit your post!
Judy Aron is hosting the 200th Carnival of Homeschooling this week! Congrats to the COH and Happy Birthday Judy!

Judy's a really hard act to follow, but I'll be hosting the carnival here next week. In the meantime, stop by and wish Judy a Happy Birthday and enjoy the awesome carnival she set up.
You won't want to miss this week's COH- NO Child Left Inside over at Corn and Oil this week.
We need to restore the full meaning of that old word, duty.  It is the other side of rights.  ~Pearl Buck
Our family started home educating over twenty years ago. Many things have  certainly changed since then, but it is still  important  to help 
new folks know the importance of understanding their responsibilities so they can then claim their rights. As Miss Buck points out, the two are firmly connected.  It is also important to take the time to encourage new parents, help them find groups such as La Leche League and others that will encourage their natural instincts.  Taking the time to share a kind word or lend an understanding ear may be the difference between success and failure. I still recall and appreciate those who took time out of their already busy lives to help me.
Parents today need to know that they are their own best experts when it comes to their family, the education of their children and the protection of their child's educational rights.  A great resource for any new parent is Larry and Susan Kaseman's book, Taking Charge Through Homeschooling; Personal and Political Empowerment.  Don't let the Politics in the title scare you.  Politics and knowing your rights are really intertwined with every day life.  The Kasemans present these principles in an easy to understand format  in the book.   After reading it you will not only be empowered politically, but personally as well.