There is no ONE home educating expert, but  each family and child are their own best expert as to what works best for them each day while living and learning.
That said,there is a lot of great information that will inspire you to learn to trust yourself as being your own best expert if you choose the path of educating at home.
This time of year, I often get emails or phone calls from families wanting to know more about homeschooling.  Some want to know about public e-schools, some want to explore part-time enrollment, and others are ready to start the journey of home education.
Like any life choice, you gather what you can from others, from books, the Internet and then you choose what method(s) will be best for you.  No matter what you choose, no one will ever walk in your shoes, nor follow the same path you or your children will, so enjoy the journey. It is as unique as you and your family.  There are no RIGHT ways just the way that best serves you, your child and your family.
Over the next few weeks, I will be sharing some of my favorite quotes that have inspired me over the years, and have helped me to enjoy my journey in the diverse community of home educators.
I have often mentioned that we followed an interest based learning over the years.  Whether we were immersing ourselves in trains, art, baseball
or just reading a book for fun, the method served us well. Having plenty of time, resources and encouragement enables anyone to make the subject they are interested in  their own.   There is no one right way, but every individual finds the methods that work best for them.
My grown son still has the photo in his office that a major railroad sent him when he wrote them asking what the very fancy train was that
occasionally sped by our house.  They wrote back that it was the old "President's Train" that was now used for executives to travel the country, and set a lovely 8 x 10 along with it.  They had so many of those experiences with the librarian, a zookeeper, naturalist and others in the community they learned to seek out information and solutions from others when they needed to. I've seen them use those same skills very well as adults.
Enjoy this carnival as others share their methods, lives and learning experiences in this week's carnival.
Thanks again to all of you who shared your posts and to those who stopped by to read them!
Be sure to submit next week's post to Judy Aaron  for the  26 February 2013 edition at  – Consent Of The Governed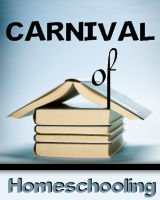 I will be hosting the Carnival of Homeschooling next week on May 29th and I'm grateful to the Cate's for their continued invitations to host the carnival here.
I'm particularly appreciative since  I've been woefully neglectful of this blog as of late, but the main reason I originally created it was not for my posts,  but to share information  such as  Sue Duncan's  OH-Alerts.   The opportunity of hosting the carnival a couple of times of year is another reason I happily keep it online.
Hosting the carnival always leads me back to the wonderful path home education led our family down over the years.  This quote by John Taylor Gatto  says it all:
"Whatever an education is, it should make you a unique individual, not a conformist; it should furnish you with an original spirit with which to tackle the big challenges; it should allow you to find values which will be your road map through life; it should make you spiritually rich, a person who loves whatever you are doing, wherever you are, whomever you are with; it should teach you what is important, how to live and how to die."– John Taylor Gatto
I hope you will stop by next week to visit or submit a post!
From GardenSoxx:
To celebrate Earth Day, we are giving away 5 GardenSoxx EZ Filler Kits (50') each day for one week starting on Earth Day! Five Grand Prize Winners will also win a 50' drip irrigation kit.   All you have to do is:
1.       Like our new GardenSoxx Facebook Page
2.       Sign up for an account on our website at www.gardensoxx.com, so you can stay updated about future GardenSoxx news and promotions.
I just happened upon this blog by Liz Heinecke that looks like it is full of some interesting posts and resources.  Just wanted to share it with you all.
Winter weather is always fun to watch, especially if you are homeschooling and don't have to send your children out into it until they are ready. Once they are, the fun can begin. Here are some great winter resources, indoor or out.
I've just finished reading the last Carnival of Homeschooling for 2011 over at Susan Ryan's Corn and Oil. These days my boys are gone from the homeschooling nest as well, but they often reflect that  the opportunity to learn at their own pace and explore their interests has stayed with them as they venture on in life.
I was pleasantly surprised to  see my good friend Kaye Swain participating over at Susan's edition of the COH.  I know Kaye as a monthly contributor to the EldercareABC, Inc. blog. It's delightful to know how small and connected our world truly is.  Kaye has been a great source of care giving encouragement to me over the past year, which is a good segue to explain where I've disappeared to since my last post in May 2011.
On July 2nd, 2010, my Dad coded after an emergency endoscopy to unblock a blocked liver duct.  After his resuscitation, we all began a journey my dad would not have chosen, but that led him and our family  to meet some very wonderful people. Due to his limited mobility after the resuscitation, Dad moved to the Renaissance Health Center where one of us visited him daily until he passed away peacefully and with dignity on July 8th, 2011.
Dad often told others about the wonderful opportunities that homeschooling offered our family.  He was even buried in a biodegradable urn made by our good homeschool friends Debra and Stephen  Bures at Elements Gallery. We had a memorial celebration at the Renaissance where we were delighted to celebrate his life with friends, family,  many of his fellow residents and the awesome staff who cared for him.   Even the  local newspaper editor, Mary Jane Skala,  whom my Dad sparred with regularly over  their political differences over the  years came to the service.
Shortly after he passed, my Mom took a tumble on a loose rug at the local bank. After a long series of emergency room visits and hospital admissions, she ended up at the Renaissance as well, so we are once again making our daily visits there.  The staff and residents continue to be great and will forever remain a part of our family.  (One thing we found enriched our lives when we were homeschooling was volunteering. If you are a homeschooling family or group in the Cleveland area, you couldn't ask for a nicer place to volunteer.  If you are interested, just contact me!)
As the year comes to an end,  I remain appreciative of  the many kindnesses that have been shared with our family.    Thanks to each of you from the bottom of my heart.
If homeschooling has taught me anything over the years, it is to be an advocate, stand up for my rights, stand up for others and to embrace the responsibilities life presents me.  To have so many of you in my life who do the same brings great joy to my life.  Thank you and Happy, Healthy 2012 to each of you!
Another great Ted Talk video:
Attend the WPA Conference on Friday and Saturday, May 6 and 7, 2011 at the University of Wisconsin Oshkosh. Full details here http://homeschooling-wpa.org/conference/ or click here to request a free registration packet.
Encourage others to attend. Direct them here: http://homeschooling-wpa.org/conference/ or, better yet, request some registration packets here wpa@homeschooling-wpa.org and distribute them.
Earn WPA coupons that are good for WPA membership, handbooks, and 2012 conference registration fees. http://homeschooling-wpa.org/conference/special.shtml#coupons
Income from the conference is essential to WPA's ability to serve homeschoolers like you and protect your homeschooling freedoms.
What people like about the conference:
• My favorite memory from a WPA conference is a feeling of being welcomed.
• [I got] this settled feeling that crept in throughout the day and the realization of what it was at the end of the conference. It was this feeling that I wasn't homeschooling in isolation.
• With the information I learned from the speaker I overhauled our entire Math program which has since turned my little Math-Hater into a Math- … well, let's be honest here … a Math-Tolerator. Tolerator enough, however, to have worked her way to a level one entire grade level higher than her chronological grade.
• So many questions were answered! . . . We became inspired about what we were doing when we looked around and realized how many other families were involved and believed as we did.
• I remember pulling out of the UW Oshkosh parking lot on my way home thinking, "This was a great idea. I am so glad to have come." … And I think that my kids are glad, too.
Click here http://homeschooling-wpa.org/conference/memories.shtml to read more comments.
Thank you!
The WPA BoardWisconsin Parents AssociationVoice Mail 608.283.3131wpa@homeschooling-wpa.orgwww.homeschooling-wpa.org

Thank you for stopping by while I host the Carnival of Homeschooling!   I appreciate  everyone who contributed, those stopping by for a look and to Henry and Janine Cate who continue to keep this great free resource going.  Enjoy!
Paul Munger presents Podcast! Heartbeat of a Homeschool Family: The Mungers posted at The Homeschool Show.
Kyle Sadler presents To Be or Knot to Be — Our Next Fine Motor Lesson posted at Montessori For Learning.
Richele McFarlin presents Adding in Charlotte Mason Basics posted at Under the Golden Apple Tree.
Lois Ridley presents PRESCHOOL SONGS posted at Parenting Twins and More.
Cristina presents Tips for Running a Successful Homeschooling Program posted at Home Spun Juggling.
Jimmie presents Postcard Notebooking Page posted at The Notebooking Fairy.
Barbara Frank Online presents  Do Kids Learn More By Writing Instead of Typing?